Well sir, I don't like it. The Rosewood stain just isn't "taking" the way I would like it to on the laser-cut wood.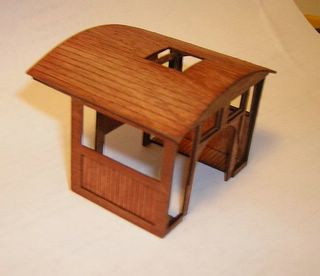 a) I missed sanding a couple of the edges of the parts to remove the thin layer of blackened wood. This carburised surface doesn't accept stain or glue very well.
b) The grain is a bit too coarse, and the wood doesn't seem to be very porous. The stain likes to sit on the top surface. Perhaps the stain in the bottle has lost its effectivity...
The cab is simply going to get a couple of coats of E/L Maroon to match the future passenger equipment.